In a world where self-love is increasingly important, many beauty enthusiasts have invested in their beauty routine and the tools they use. Routinely cleaning your beauty tools at least once a week can help prolong their lifespan and prevent the growth of bacteria.
Here is our Ultimate Guide to Cleaning Your Beauty Tools at home:
Manicure Tools
Manicure tools, also known as nail tools, help keep your nails and cuticles in their best shape. These tools include nail clippers, nail files, cuticle nippers, and nail scissors. Nail clippers and nail files are most commonly used to keep nails trimmed and shaped. Cuticle Nippers help cut those pesky cuticles and hangnails. Nail scissors are also used for cutting your nails with more control and precision.
These tools come in contact with skin tissue so it's best to wash with antibacterial soap and water then dry them after each use to prevent nail infections. For an even deeper clean, scrub your nail tools with an old toothbrush and clean the edges with a q-tip dipped in rubbing alcohol.

Tweezers
Tweezers come in all shapes and colours for hair removal. While tweezers are very versatile, they are most commonly used for tweezing facial hair.
Tweezers should be cleaned regularly after each use! Wipe your tweezers with a q-tip dipped in rubbing alcohol then let dry. Because tweezers are frequently used on the face, it's best to sanitize them once a week to prevent bacteria buildup and use a tip protector to keep them clean and in their best condition.

Face Rollers
Face rollers are made from different materials for different purposes. The most popular, jade rollers, are made of solid jade stones. There are also Rose Quartz Rollers, amethyst, and even stainless steel for an ice-cold facial. Face rollers helps to decrease puffiness and under-eye circles by increasing circulation and stimulating your lymphatic system. Face Rollers are usually dual-ended and consist of a larger stone for your cheeks, jaw, and forehead and a smaller stone for under-eyes and around the mouth. Simply roll the tool on your face while applying gentle pressure from the middle and roll outward.
After each use, use warm soapy water and a soft towel to wipe down the roller. Then rinse and pat dry. If you use the roller with any type of face oil or creams be sure there is no leftover residue before storing away. Product buildup on the roller could cause breakouts! You should also spray a bit of rubbing alcohol and wipe clean to sanitize once a week and be sure to store your roller in a safe place.
Makeup Sponges
Known to be the one of the most popular beauty tools, makeup sponges have improved the way we apply makeup and achieve blended perfection. Makeup sponges are great for liquid makeup such as foundations and tinted moisturizers and cream makeup like BB/CC creams and cream blush.
There's controversy over whether to use it wet or dry, but no matter which way you prefer, it is always best to clean your makeup sponge after each use. Simply dampen the sponge with warm water and massage mild soap into the sponge, be sure to focus on the dirtiest parts. Then, squeeze the makeup sponge under running water until it runs clear and there are no more soap suds. Dry it with a clean towel and set aside to air dry.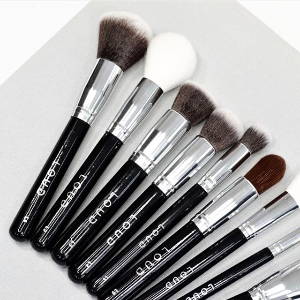 Makeup Brushes
There are so many makeup brushes for different uses but basically it can be categorized into two types: face and eyes. Eye brushes are best for eyeshadow placement while face brushes are best for setting powder and blending your bronzer. There are also different bristles for powders, liquids, and creams.
To clean your makeup brushes, wet the brush head with lukewarm water and swish the bristles in mild soap for 30 seconds. You can either use a silicone makeup brush pad or the palm of your hand to do this. Next, rinse the bristles with lukewarm water until there are no more suds while keeping the brush handle dry. Squeeze the excess water then lay brushes flat on a clean towel to dry overnight. Bonus Tip: Try adding a tiny drop of olive oil with a mix of soap when washing your brushes for an extra touch of moisture and keeping the bristles soft.
Eyelash Curler
Eyelash curlers are best used with clean, bare lashes but sometimes a more volumizing effect is achieved after a few swipes of mascara. Although this beauty tool can be terrifying for some, it is known to give the look of more awake and bigger eyes.
To keep your eyelash curler clean, use a makeup wipe or wet a cotton ball with rubbing alcohol and wipe down all the surfaces that come close to your eyes - don't forget the cushion pad! It is recommended to clean your eyelash curler at least once a week or more often, depending if you curl your lashes after mascara. Make sure all makeup is removed and then rinse the curler with warm water to remove any alcohol and debris. Wipe dry with a clean towel and let the curler continue to air dry overnight.
Extraction Tools
Extraction tools such as a Comedone Extractor are used to remove blackheads, whiteheads, and comedones. You may have a good facial cleaning routine going on, but extraction kits really cleanses skin deep. It is recommended to take precautions in using these tools to prevent scarring, bruising, and damaging your capillaries.
It is highly recommended to disinfect your extractor before AND after each use. You can do this by first running your extraction tool under pressured water to make sure any extra debris is removed. Then, sanitize the extractor by soak it in rubbing alcohol for 5 minutes. You can also use a cotton ball dipped in rubbing alcohol to clean the surface of the extractor and the the two loops. Let it air dry and store in a designated container.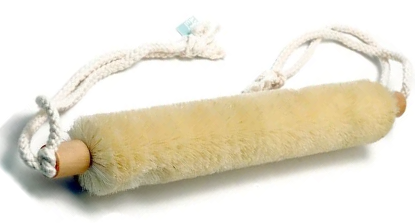 Massaging Dry Brush
Dry brushing the skin a few times a week with a soft but firm brush helps with overall detox while sweeping away dead skin cells. It is recommended to start at your feet and brush upward toward the heart then work from your extremities to the center of the body for at least 3 to 5 minutes. Make sure that you apply gentle pressure when brushing as the skin should not be scratched or damaged.
Fill a bowl with water and add 3-4 drops of essential oils (tea tree or lavender) with a little bit of liquid castile soap. Then, place your dry brush with bristles facing down in the bowl of water, making sure that the water is at the same level of the bristles. Try not to let the wood part of your brush get wet. After sloshing the bristles around with the water mixture, rinse the bowl and fill it with plain water and slosh the bristles again until there are no more suds. To dry your brush, place it on a clean towel with the bristles facing down and allow it to dry.
Hot Hair Tools
Curling irons and flat irons help you achieve beautiful locks in no time. It is recommended to always use thermal protection on your hair beforehand to keep your hair from heat damage. Choosing a high quality hot tool is also important in keeping your hair as healthy as possible.
Due to the hair products that are added before styling, sometimes you can create build up on your hot tools and decrease its effectiveness. Before cleaning, make sure that the iron is unplugged. Then, with a few flat cotton rounds/squares dipped in rubbing alcohol, wipe down the surface. After all the build up and gunk is removed, wipe down with water and dry with a soft cloth.
---
Shop Our Tools By Clicking Here